By
Lauren Ball
Happy birthday, William Shakespeare! 450 years old on the 23 April 2014 and still going strong, dominating theatres, classrooms and pop culture references the world over. You're kind of a big deal. Here's a few reasons why we can't get enough of the Bard.
He invented over 1,700 of our common words, including dwindle (
Henry IV
), lustrous (
Twelfth Night
), obscene (
Love's Labour's Lost
), pedant (
The Taming of the Shrew
), swagger (
A Midsummer Night's Dream
), tranquil (
Othello
), bandit (
Henry VI
) and besmirch (
Hamlet
).
He also gave us the names Imogen (Cymbeline), Jessica (The Merchant of Venice) and Miranda (The Tempest). Fun fact: Imogen was a Shakespearean printer's misspelling of the Celtic name Innogen, which means 'beloved child'.

His profession was not writing, but acting. He acted in many plays, including his own, and is listed in documents of 1592, 1598 and 1603 as an actor. Thus, history's most successful hobbyist.

He probably died on what was probably his birthday, so he has full ownership of April 23rd. If you thought this day had some special significance to you, get over it. This territory is marked.

Bucking the trend for artists at the time, Shakespeare died a very wealthy man with a large property portfolio. His shrewd business skills led him to form a joint-stock company with his actors so he took a share in the company's profits, as well as earning a fee for each play he wrote.

He lived through the Black Death. He's a survivor, he's not gon' give up, he's not gon' stop, he's gon' work harder.
He was prolific and wrote 1.5 plays a year on average. That's a hella strong work ethic.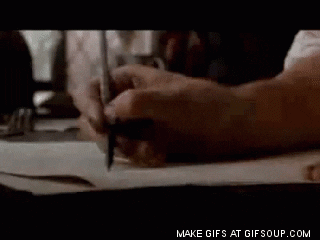 He wasn't always lauded the way he is today. The first recorded reference to Shakespeare, written by theatre critic Robert Greene in 1592, was as an 'upstart crow, beautified with our feathers'. Big up the underdogs.

His vocabulary was huge. According to Shakespeare professor Louis Marder, 'Shakespeare was so facile in employing words that he was able to use over 7,000 of them - more than occur in the whole King James Version of the Bible - only once and never again.' I'm not even mad, that's amazing.

He's coming to the West End this summer, with the face of Tom Bateman, in Shakespeare in Love. Love, and a bit with a dog - we can't wait.